Property Services
We rescue you from the norm. Across all of our property services, we strive to change the way that you work with contractors. You can breathe easy knowing that you can rely on our professional workers, guaranteed prices, and consistent results.
The Fighters Guarantee
Once we complete your job, you (or the owners/tenants) have one (1) week to submit a deficiency request by phone or email. We'll schedule a touch-up day at the earliest available service date to remedy any valid deficiencies that were reported.
Want to save time & money?
Bundle your property services and save. No more back-and-forth, no more confusion, or having the responsibility fall between contractors leaving you circling around without a solution.
Let's talk about your property
Looking for a new career?

What we do

Roof to Parkade™ Program
We'll take care of it all,
from Roof To Parkade™ (R2P)
We offer all the property maintenance services that you'll need, completed by one team that's managed by the same supervisor, so you're always dealing with people who you recognize and trust. That means less back-and-forth, no more confusion, or having the responsibility fall between contractors leaving you circling around without a solution.
Your work is scheduled conveniently at once in a tight timeline and completed in the order that makes the most sense, so that noisy and disruptive work is minimized throughout the year.
When you sign up for a full R2P program you get:
Costs savings of combining services vs. contracting each service individually
An inspection report in an easy to read and understandable format
A checklist and severity summary of our findings and recommendations of what to do
Discounted rates on ice melt products

Typical Roof to Parkade™ Schedule
During the early days of Spring, most buildings will get all of their windows cleaned and pressure wash their retaining walls, parking curbs, common areas and parkades. This is also a good time to do a comprehensive photo and video inspection of the envelope of your building.
In the summer months, it is popular for R2P clients to do light restoration work including painting, caulking, and crack repair. Also, because of the warm, dry weather, the summertime is ideal for doing large roof cleaning projects.
When the Fall comes around, this is the time of the year some buildings will opt for a second round of pressure washing or window cleaning.
Snow removal, plowing, and de-icing services are obviously done in the winter months – and when snow happens, Grime Fighters will be there to save you!

Trusted By
Commercial
From offices skyscraper to retail shopping centres, our crews are trained and equipped to handle your cleaning, building maintenance and restoration needs.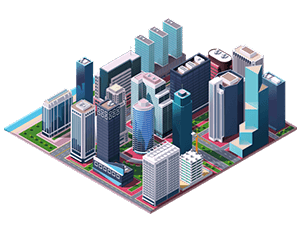 Strata
We'll help you reduce all the meetings, email, quotes and back-and-forth that can come with trying to juggle multiple crews or disorganized and sloppy contractors.
Public Facilities
Whether it's bus and SkyTrain stations, city halls, or public art installations, we work with government to ensure our city is heroically maintained.